storforsen
Get incredibly close to the power of nature. Storforsen – the largest unregulated rapids in Europe – is a mighty show of whirling water which stretches out over five kilometers and breaks into a fall of 82 meters. You can hear the rapids thunder, watch the water froth and feel the splash of the cool water from first row seats.
Each second 250 cubic meters of water passes by in Storforsen. That's the same amount as an entire family uses in a year. When the spring flood is at its strongest after the melting of the winter snow then water passing by can reach up to 870 cubic meters a second.
Thanks to the powerful flow of water, the rapids never freeze, even in the coldest of winters.
Storforsen begins in the massif Sulitelma just by the Norwegian border. From there the water which makes up Pite River flows through the rolling landscape of Norrbotten to eventually end up in Bottenviken by Pite Havsbad. At the foot of Storforsen the water finally calms down.
In the 19th century people began using the rapids to ship timber from further inland, down to the coast. Before then the rapids were both wider and shallower than they are today, but they were redirected between 1878 and 1945 so that the timber could pass easier. Due to the erosion around the rapids the nature around Storforsen is characterized by meadow forest which is submerged under water at certain points. Storforsen isn't the only well-visited area – nearby are also Brudforsen and the Dead Fall.
In Storforsen you can sit down with a picnic basket on a rock anywhere. On many places in the natural reserve there's also several grilling areas where you can grill sausage, fry lunch or boil your own coffee.
Visit the Coffee Cabin, located right by the entrance to the natural reserve. Here you can buy waffles, lighter food, home made fika or a refreshing ice cream. The café is open during the summer, between May and August.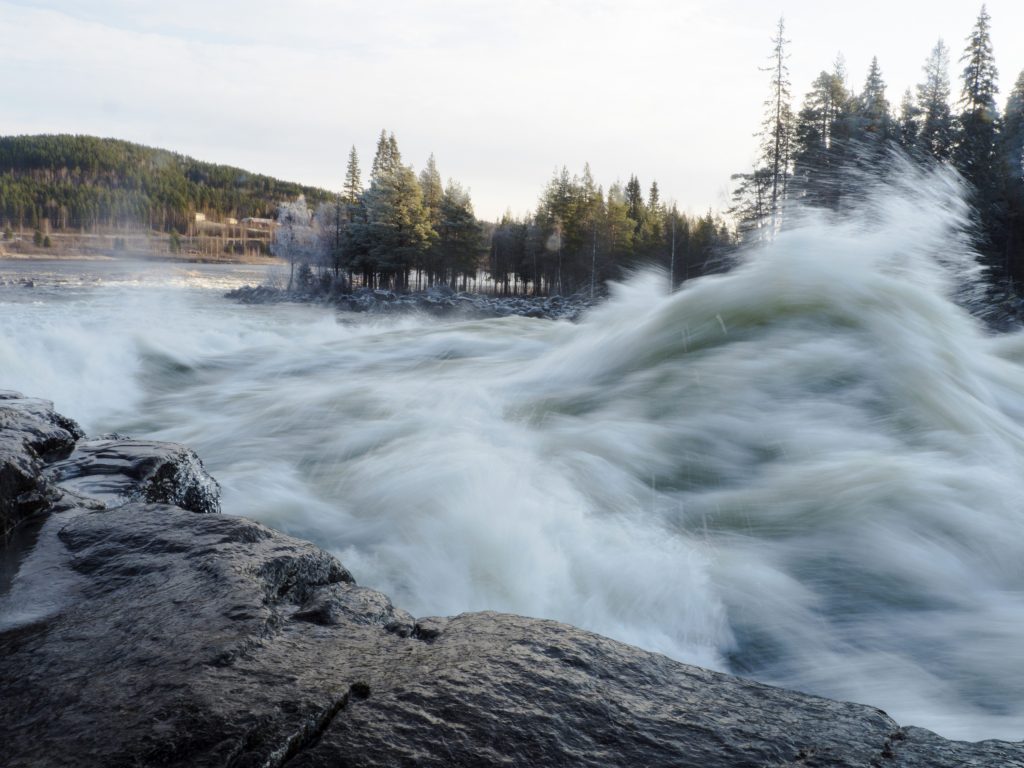 Sunbathe on a warm rock, bathe in one of the side currents of the rapids, stroll around in the nice hiking trails or visit the forestry and log-driving museum. In Storforsen there's something for every age!
Make sure to time your visit with one of the theaters or concerts held on the outdoor stage. Like an amphitheater the rocks create a natural stand where the acoustics can reach new heights thanks to the framing. Make sure to stop by the souvenir shop to purchase a memory of the most well-visited tourist attraction in Norrbotten.